For whatever your reason may be, there are times where you want to just turn on your workstation without having to type in your username and password. In previous operating systems, the command can be typed in the RUN box, which is no longer available to the Windows 7 user. The RUn box can be restored, but that is another article. To bypass the logon screen can be accomplished in just a few steps. However, please read the note at the bottom of this article, you may have to repeat these steps again.
Here are those steps:
Go to the Start button -> All Programs -> Accessories -> Command Prompt
Type netplwiz and press Enter.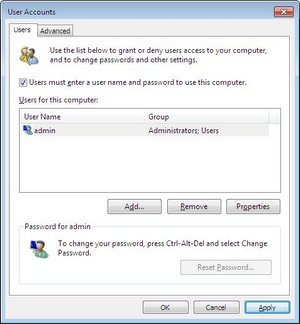 Uncheck the box next to Users must enter a user name and password to use this computer.
Press the Apply button.
Another box will appear, prompting for password for the account that you had selected.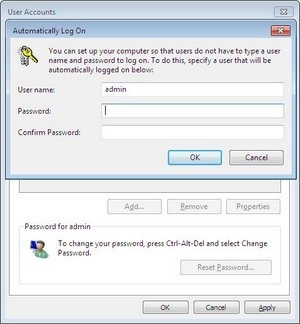 Type in the appropriate password and press OK button.
Press OK again.
Done.
Note:I noted in an installation that Windows forced a password change at the login window. After doing so, this "broke" the auto login because the passwords no longer matched. An error message will appear at the logon window regarding an incorrect password. To correct this follow the steps again provided above or change your computer policy, for which I have not just yet.