A recent task required an installation and setup of a JBoss Application Server on a Linux box. I originally selected the Ubuntu 8.0.4 LTS Server Edition for this task since I have had a little more experience with Ubuntu. I have graduated to Red Hat Enterprise Linux 5.2 (RHEL) and CentOS 5.2. I created A RHEL virtual machine with VMware Workstation. I started from scratch, as too many guides make too many assumptions in their build. I am new to this, and this is what worked for me. JBoss requires JAVA JDK 1.4+ to run. This virtual machine installation is RHEL with GDE.
Installation Instructions
Please note, that these instructions worked for me as I am still learning the best practices and standards for software installations. In other words, there may be a more likely location to copy the files however, this procedure works. With that in mind …
Install JDK (Java Development Kit)

Please refer to my

earlier post

that details this installation.

Download

JBoss Application Server

I used the latest Stable release, version 4.2.3.GA.

By default jboss will run and only be accessible as 127.0.0.1 and not available to any other connection.

So that JBoss Application Server will be available outside of 127.0.0.1 a bind needs to be made. When launching JBoss in Terminal or with a link, use the following commands:

cd /usr/lib/jboss/jboss-4.2.3.GA/bin
./run.sh -b 192.168.1.55 all

Note: change the IP address to your IP address.

To have the JBoss Application Server be part of a cluster, use the following commands instead.

cd /usr/lib/jboss/jboss-4.2.3.GA/bin
./run.sh -c all -Djboss.bind.address=192.168.1.55
The results of the command switches from another workstation: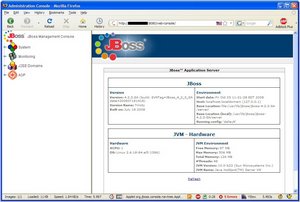 I really couldn't go into much detail behind the command line switches, however these switches work, one could always refer to internet documentation. Some useful documentation.