Selenium is a test tool for web applications. Selenium tests run directly in a browser. I have put together a guide to show how to take many Selenium scripts and automate them using a single test.
Prerequisites
Download Firefox (i.e. Firefox Setup 2.0.0.13.exe)
Download Selenium IDE (Firefox plug-in) (i.e. selenium-ide-1.0-beta-1.xpi) and install by opening a Firefox window and dragging and dropping selenium-ide-1.0-beta-1.xpi onto a Firefox window.
Download Java Runtime Engine 1.6 (i.e. jre-6u5-windows-i586-p.exe)
Download Selenium Remote Control (i.e. selenium-remote-control-1.0-beta-1-dist.zip) and extract the zip file to a folder (i.e. D:\selenium-server-1.0-beta-1)
Note: This has been tested in a Windows environment; this however, is an operating system independent procedure.
Create Selenium Script(s)
Execute Firefox
Go to Tools > Selenium IDE
Set your Base URL, i.e. https://it.megocollector.com
Record your script. (Note: Details http://selenium-ide.openqa.org/)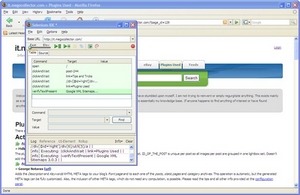 Save the script with file extension .html (i.e. print.html)
Record several scripts, save each with the extension .html

Automate Selenium Script(s)
Create an html file to batch the tests together (placed in the same folder) as the existing html tests. testsuite.html

<table>
   <tr>
      <td>Test suite for the whole application</td>
   </tr>
   <tr>
      <td><a href="print.html" target="testFrame" rel="noopener">Print: Test Plugin</a></td>
   </tr>
   <tr>
      <td><a href="categories.html" target="testFrame" rel="noopener">Categories: Navigation Tests</a></td>
   </tr>
   <tr>
      <td><a href="pages.html" target="testFrame" rel="noopener">Pages: Navigation Tests</a></td>
   </tr>
</table>

Create a batch file to run the scripts and generate a results file, results.html
For this example, autoRunSelenium.cmd

java -jar "D:\selenium-server-1.0-beta-1\selenium-server.jar" -htmlSuite "*firefox" "https://it.megocollector.com" "D:\seleniumtests\testsuite.html" "D:\seleniumtests\results.html"

Execute

Run autoRunSelenium.cmd from your desktop, a command windows will open and

a popup screen similar to this may appear.

After the cmd window closes goto (D:\seleniumtests\results.html) for the results, done.

Inspiration

http://wiki.openqa.org/display/SIDE/Automating+Selenium+IDE+tests
http://selenium-rc.openqa.org/selenese.html