A user has an Epson scanner using Epson Scan Ver. 2.75A. The scanner had been functioning correctly until recently. For some reason, the scanner will go through the motions of scanning the image and even present a preview, however, upon attempting to save the scan as an image, the Epson scanner software will now pop up an error message, with "Epson JPEG plug-in" as the window title and "Unable to write to file" as the error. Research using my favorite search engine revealed that there is a user community out there that has the same problem, however, no real solution. In all their cases, this was a "fresh" install indicating that the scanner software never worked. In this case, however, the scanner once worked and something changed. I figured out the cause and solution.
In the case of this installation, and by behavior of the scanner, driver, and software, there was every indication that the file could not be written to its destination, even though the error really doesn't indicate that.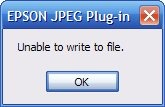 To correct the problem. Open the EPSON Scan application.
I was aware of the file destination setting under Configuration button on the bottom middle of the EPSON Scan application. There is another buried setting under the Scan button that differed from the setting under Configuration. Just click on the arrow next to Scan, select File Save Settings…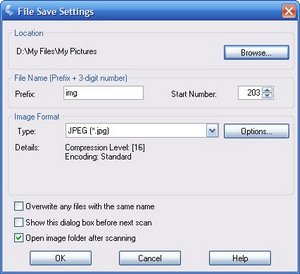 Check the Location above. If that does or doesn't look correct to you, click on the Browse… button and select a correct location. When done, press OK. This should fix the error, it did at least in my case, twice.