In a Microsoft Office Word 2007 document it is possible to track modified dates and times from within the document. Instead of manually maintaining a document with a line like Last Modified July 20, 2012, there is built in functionality from within Word that will maintain this date.
Launch Microsoft Word and type something like Last Modified.
Go to the Insert tab.
Go to the Quick Parts section and select Field … from the dropdown menu.

Select Date and Time under Categories.
Then select SaveDate under Field Names.
Under Field properties select the desired Date format.
Press the OK button.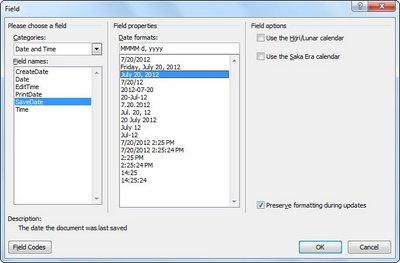 In a previously unsaved document as in the case of this one, the date will not be available, only the date formatting.

Save the document. Note that the date formatting will remained display. Close the saved document and open it back and then the date will display.

Reference
http://www.howtogeek.com/79859/word-2007-track-the-date-and-time-a-document-is-modified/