Remote Desktop on Windows XP Professional or Windows Server 2003 will allow access to a Windows session that is running on another computer from your local computer. However, this feature must be enabled to do so. I recently setup a Windows Server 2003 server and forgot to enable remote access.
To enable remote access, you can right click on Computer on the desktop, select the Remote tab, and then put a check in the Remote Desktop box below. Select users. Click OK. Done.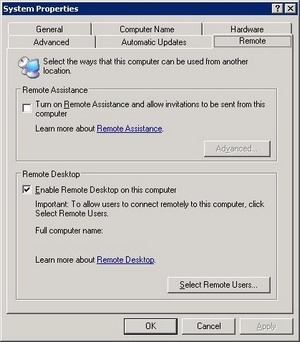 However, I didn't do that. To fix this, from another computer access the remote registry.
Run REGEDIT
Click on File, choose Connect Network Registry
In the Select Computer box, type in the name of the computer.
Look for the following registry key
 HKLM\SYSTEM\CurrentControlSet\Control\Terminal Server 
Under Terminal Server find the value fDenyTSConnections (REG_DWORD). Change the value data from 1 (disabled) to 0 (enabled).
Click OK
Close Regedit.
Reboot the remote machine for the change to take effect. You can easily do so by opening a command prompt and typing the following command in Windows 2003.


 shutdown /m \\machinename /r /t 00 /f 


or in Windows XP, Vista


 shutdown -m \\machinename -r -t 00 -f 
Worked for me, got me out of a real bind.
Source
Remotely Enable Remote Desktop on Windows Server 2003