Microsoft Outlook 2003 forces a default view of which includes AutoPreview, GroupBy Settings, and Reading panes. These settings may be changed at the current view; however, there is no documentation or choice when it comes to changing these settings globally. The settings change for a current view, may not be so bad, if only a few folders existed, however, with time years of folders exist requiring the need for a global view change.
After a little research with my favorite search engine, I found the following set of steps that will turn off AutoPreview, Reading Panes, and all Group-By settings. This method may be used to apply other changes based on other preferences. I have tested and verified this work on several occasions.
Create a desktop shortcut to OUTLOOK.EXE and add a switch.

Right click on the desktop
Select New
Select Shortcut
Browse to "C:\Program Files\Microsoft Office\OFFICE11\OUTLOOK.EXE"
Add the switch /cleanviews to the end of the string "C:\Program Files\Microsoft Office\OFFICE11\OUTLOOK.EXE" /cleanviews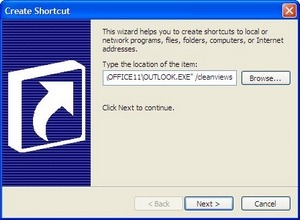 Press Next
Type a name for this shortcut: Outlook
Press Finish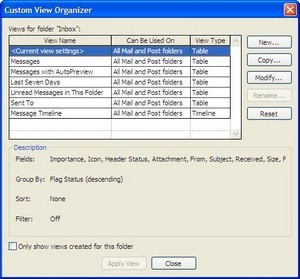 Select Messages and click the Modify… button.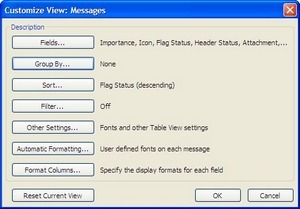 Click the Group By … button and uncheck Automatically group according to arrangement.
Click OK.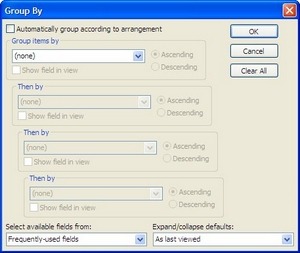 Click the Other Settings … button and set Reading Pane to Off.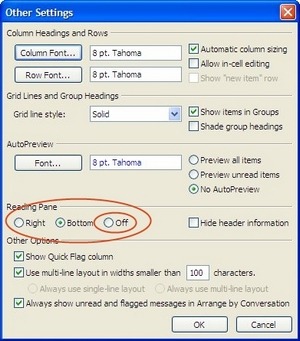 The image highlights the Reading Pane and the Off as I have found it to be innocuous.
Click OK, twice, to get back to the Custom View Organizer.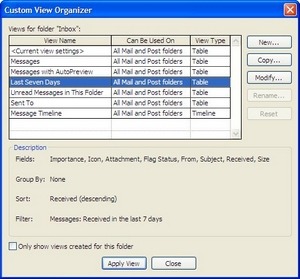 Click on another view listed in the Custom View Organizer window. Any view other than Messages (ie. Last Seven Days) and click Apply View.
Navigate the menus again to the Custom View Organizer

View > Arrange By > Current Views > Define Views

Select Messages and click the Apply View button.
Done.
The custom view is now applied to all Outlook folders; however, may take time to transverse the folders to complete the task.
Source: TechRepublic