Windows Vista as a media center, better known among many as VMC offers promising capabilites. A one-stop place for all your music, television, recorded televsion, videos, pictures, and radio. You can even play DVDs, a manual process. A great feature that must be modified / added manaully is the DVD Library. The DVD Library icon is added to the VMC so that copied DVDs may be played from the VMC. This is a great idea, particularly when there are several movies that are worth repeatedly watching. This will guide you through the process of setting up a DVD Library.
There are many DVD Library guides, however, I have used pieces from each to find a simple approach to creating a DVD Library and making it accessible through VMC.
Requirements
Windows Vista Media Center
Enable Media Center DVD Library
DVDFab HD Decrypter
Proceedure
Enable DVD Library – Change registry key to display DVD Library either manually or with the downloadable tool free from Microsoft, called EnableMediaCenterDVDLibrary.msi.

Windows Registry Editor Version 5.00

[HKEY_CURRENT_USER\Software\Microsoft\Windows\CurrentVersion\Media Center\Settings\DvdSettings]
"ShowGallery"="Gallery"
Copy DVD to hard drive. There are many applications that make this possible, however, DVDFab HD Decrypter is free and easy to use. Once installed, there are trial modes for the pay version, however, about mid way through the screen is Start DVDFab HD Decrypter.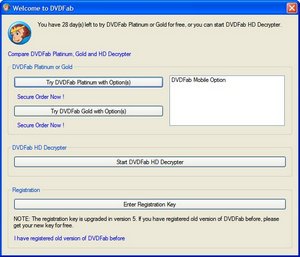 Once in the application, you can rip either the Full Disc or Main Movie.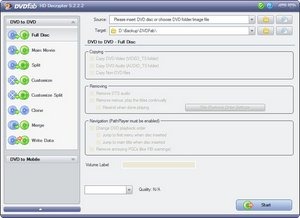 Copy the DVD to a folder on the hard drive. For example, E:\DVD Regardless of the structure of the DVD copy, the folder structure should look like:
E:\DVD\
E:\DVD\Star Wars\VOB_TS
E:\DVD\Star Wars\VOB_TS\*.*
E:\DVD\2001\VOB_TS
E:\DVD\2001\VOB_TS\*.*
E:\DVD\Misery\VOB_TS
E:\DVD\Misery\VOB_TS\*.*
Add DVD cover art and metadata. The DVD Library Manager for Vista Media Center (VMC) is a free Windows application that can edit the DVD metadata or DVD information used "by DVD Library in Vista Media Center (VMC). It can download additional movie information from Amazon.com and IMDB.com. This program is to be run outside of the Vista Media Center but on the same computer as VMC (It can also be run on a different computer if you are familiar with symbolic links)." This program will create the metadata (XML) file automatically from the ..\eHome\DvdInfoCache and add the folder.jpg for the DVD cover art. The following folder structure would look like this for the movie Star Wars.
E:\DVD\
E:\DVD\Star Wars\folder.jpg
E:\DVD\Star Wars\???????.xml
E:\DVD\Star Wars\VOB_TS
E:\DVD\Star Wars\VOB_TS\*.*
The final result is a DVD Library populated with DVD cover art.