A couple of weeks ago, I upgraded eRoom from 7.3.4 to 7.4.0 (7.40.500.183), which was released on March 11, 2008. On March 28, 2008, EMC Documentum eRoom 7.4.0a (7.40.500.184) was released. Unlike previous versions of this product, 7.4.0 is no longer available. For example, version 7.3.3 and version 7.3.3a both exist and are still downloadable. This raises the question, what is so bad to cause EMC to remove Documentum eRoom 7.4.0 from the download page. The answer is found in the release notes.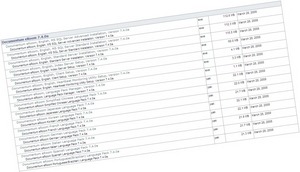 Bug Fixes in Documentum eRoom 7.4.0a
eRoom may display incorrect file sizes after a file protected with rights management is edited. eRoom now displays the correct file size after a file protected with rights management is edited.
After an upgrade to 7.4, participants and observers may not be able to access some eRooms even though community and site administrators can do so. While trying to log in to the eRooms, members see the following error: Unfortunately, eRoom was unable to generate the page you requested, because you do not have right to it. Participants and observers no longer see this error message after upgrading to eRoom 7.4.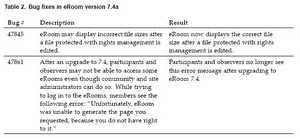 Only two bug fixes and no additional functionality or improvements. However, both bug fixes are significant enough to warrant this upgrade.