Netflix introduced the ability to watch videos online. This is a cumbersome process, especially for those who have grown used to using Media Center remote control and Windows Media Center. Everything in the Windows Media Center is pretty well organized and accessable through the Windows Media Center remote. However, the Netflix watchnow feature requires the user to close or minimize Media Center, use a keyboard, type in username and password, and so on.
MyNetflix is long overdue and would have appreciated Netflix for developing this plugin, however, leave it to the user community to fill the gap.
MyNetflix is a plugin that was created by Anthony Park to add this missing functionality to the aging Microsoft Media Center Edition 2005 and Microsoft Windows Vista (Home Premium or Ultimate) operating platforms. With MyNetflix, the Netflix watchnow features and other Netflix features are now available in the Media Center interface with the use of the remote control. The MyNetflix interface is quite professional, easy to navigate, and offers more features than can be expected.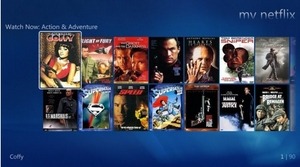 MyNetflix Features
View your Netflix queue

Browse movies by genre, top 100, new titles, etc.

View your history and recommendations

Add movies to your queue

Remove movies from your queue

Move movies to the top of your queue

Browse "watch now" movies

Play "watch now" movies
Once installed, the logo for MyNetflix will appear in the More Programs screen in Media Center.

If you have Windows Media Center and Netflix consider this free plugin, it is certainly worth more than the asking.
MyNetflix | download