A fresh, vanilla installation of a Microsoft Windows 2003 SP1 server without updates was introduced to a test environment. It was added to a workgroup. Client workstations are Microsoft Windows 7. A few shares were created on the server, however, from the workstations, the users were faced with a network error pop-up message. The solution is a simple fix.

Basically, the goal is to add the same user or group to the Security tab as listed under the Sharing tab. Below are the steps to accomplish that goal.
From the Microsoft Windows 2003 SP1 server:
Right click on the folder that is being shared, in this case the folder is test

Scroll down to and select Sharing and Security…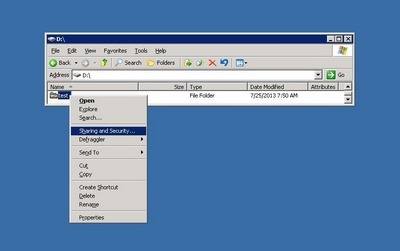 Check you Share Permissions. In this case, the goal is to share with Everyone with Change and Read access.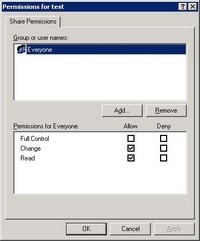 Go to the Security tab. Note that Everyone is not listed in the Group or user names.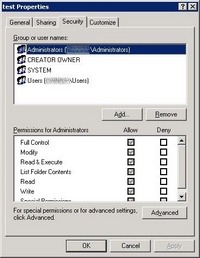 Press the Add… button.

In the Select Users or Groups box, type in everyone
Press Check Names

Press OK

From the Properties box, note that Everyone is in the Group or user namesbox.

Since this goal is to allow modification of the files, place a check in the Modify box under the Allow column.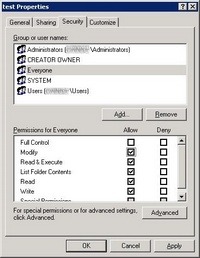 From the Microsoft Windows 7 workstations, the attempt to access the share is a success.
Source: http://social.technet.microsoft.com/Forums/windows/en-US/68ffbe2a-09a7-4e29-859c-ca1aaf75dcd1/windows-7-cant-access-share-in-a-workgroup