Manipulating files (copying, pasting, moving, etc.) on a network share presents an annoying little Windows Security window. These files might be harmful to your computer. Your INternet security settings suggest that one or more files may be harmful. Do you want to use it anyway? Pressing OK will get past this window and allow one to proceed. However this extra step is annoying. There is one way to remove this annoying "feature".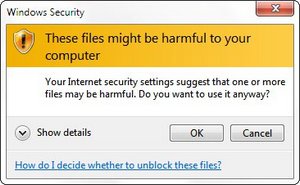 Here is a clean method to fix this.
Launch Internet Explorer.
On the tool bar, select Tools > Internet Options.
Go to the Security tab and select Local Intranet.
In the Security level for this zone, slide the slider to Low.
Press OK.
Enter the IP address of the network device and press Add.
Click Close.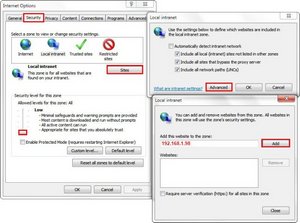 If you are still getting the message above, then close all open Internet Explorer and Windows Explorer windows, then try again. It should work.
References