Every now and again I perform a Microsoft Windows Search of a folder. The results are incomplete as the folder may contain PDF files. The PDF files are not being searched for content. There are a few simple steps to determine if PDFs are being indexed.
Go to your Start Menu > Control Panel > View by: Small icons > Indexing Options > Advanced > File Types tab.
From the File Types tab, scroll to pdf PDF Filter and note that the error is "Registered iFilter is not found".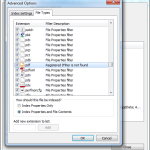 To correct this download the IFilter and install. There are a couple of free IFilters to chose from.
Adobe PDF iFilter 64 11.0.01
Source(s)
http://www.documentsnap.com/how-to-fix-pdf-search-in-windows-7-64-bit/