Having had access to Microsoft Outlook for many years, and having had the misfortune to use IBM's Lotus Notes, I like many have been faced with archiving and how to convert Lotus Notes messages to Microsoft Outlook. For years, there has been the convent Microsoft Outlook Connector that has worked, albeit intermittently and under strict conditions. This connector, however, is not supported under Microsoft Outlook 2003 (with SP3, or certain critical updates), Microsoft Outlook 2007, and Lotus Notes (newer than I believe 6.5.4).
After hours of research, I have concluded that there is no FREE, OpenSource, or hack that is a viable solution for multiple messages. Certainly, there seems to be several long work-a-rounds useful to the conversion of a single message at a time, however, I found a solution that not only successfully converted all of my Lotus Notes messages to Microsoft Outlook, but did so without a glitch.
There is an application, I purchased years ago called Address Magic Personal, that converts only address books. Recently upgraded to Address Magic Personal PLUS that converts address books, email and calendars. The reason I am writing this article, is that it hopefully saves someone else the time and effort to research and manually convert individual messages. I was resistant to the $49.95 price tag, but it was cheaper than the majority of the applications that claim to do the same thing with fewer features. Since I knew that the original application, Address Magic Personal did as advertised, I had the foundation of trust in this upgraded application. It works! I was able to convert all of my Lotus Notes 6.5.4 messages to Microsoft Outlook 2003 SP2 without a glitch.
The application is simple to install and run. Here are a few screenshots depicting the five easy steps to convert Lotus Notes to Microsoft Outlook.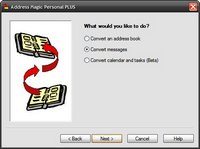 Press Next, select Convert messages, Press Next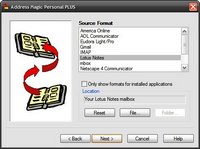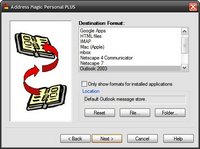 Select Lotus Notes, press Next, select Outlook 2003, press Next.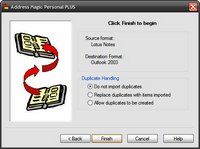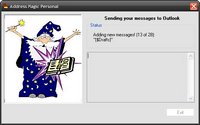 Select Do not import duplicates, press Finish.
This application is capable of many more combinations of conversions. Another note is that although Outlook 2003 is the option to select, according the website, Outlook is supported from 1997-2007 editions.