Diskeeper 2009 (Build 13.0.835.0) has officially been released. We received notice in the morning of November 28, 2008 from Diskeeper, that as part of our maintenance plan, we may commence downloading. As part of this release, Diskeeper offers several updates and new features to their product. Having only tested it for a couple of days, I have not drawn any tangible conclusions. However, here is a list of new features and improvements as provided by the Diskeeper 2009 help file.
What's New in Diskeeper 2009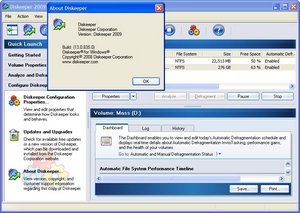 Improved InvisiTasking Technology
In the past, extremely busy systems or programs that were always on running the in background could hamper InvisiTasking and prevent it from acquiring sufficient resources to complete its job. New functionality in InvisiTasking allows it to be more assertive, while still guaranteeing completely invisible, zero-overhead, operations. Diskeeper can invisibly keep up with and complete defragmentation on a 24/7 high powered workstation or server. On typical desktops/laptops this also allows Diskeeper to operate in conjunction with always-on/idle-time tasks that run at lowest priority such as SETI@Home and similar programs.
MOM and SCOM Support
Microsoft Operations Manager (MOM) and System Center Operations Manager (SCOM) allow monitoring and management of numerous computers interconnected by one or more communications networks. Many products, such as Active Directory, Microsoft SQL Server, Microsoft Exchange Server, and MOM itself can be monitored. Enterprise administrators can now use the Diskeeper Management Pack, available separately from Diskeeper Corporation, to allow MOM/SCOM to monitor and manage Diskeeper installations deployed across their network. The Diskeeper Management Pack includes numerous alerts, reports, and the ability to manage and control Diskeeper settings and configurations, all via MOM/SCOM.
Titan Defrag Engine
The Titan Defrag Engine is the most powerful defragmentation engine ever built, eclipsing even the previous technological leader – the Terabyte Volume Engine defragmentatin engine. The Titan Defrag Engine is specially developed for the most massive data volumes ever created. Starting at volumes containing 4 to 5 TB of data, the Titan Defrag Engine will complete the job even faster and more thorough than TVE. The new engine is the only defragmentation solution capable of handling 10 TB, 20 TB and even greater amounts of data. If you have servers managing massive amounts of data, the Titan Defrag Engine is your newfound performance solution. The Titan Defrag Engine is available in Diskeeper EnterpriseServer.
Expanded TVE Availability
Diskeeper pioneered the concept of specialized defragmentation algorithms for large volumes, and continues that effort in Diskeeper 2009. Previous versions of Diskeeper included the Terabyte Volume Engine (TVE), which was designed for volumes over 60 GB. However, the TVE was only available in Diskeeper EnterpriseServer.
Disk volume sizes have continued to increase, and now it's not uncommon for even home systems to have volumes 1 TB or larger in size. In light of this, Diskeeper 2009 now includes the TVE in Diskeeper Pro Premier, HomeServer, and Server editions. Diskeeper EnterpriseServer now includes the new Titan Defrag Engine, the ultimate in industrial-strength defragmentation technology.
Expanded I-FAAST Defragmentation Availability
Intelligent File Access Acceleration Sequencing Technology (I-FAAST) is now available in Diskeeper Professional. I-FAAST goes beyond "normal" defragmentation to speed up your file access and creation times. Traditionally, a defragmenter like Diskeeper could restore the performance of a computer to like new condition. I-FAAST, however, can improve the computer's performance to better than new!
I-FAAST improves file access and creation by up to 80% (average 10%-20%). It is the first industry implementation of "Disk Performance Calibration", the modern evolution of the outdated and inconclusive disk optimization strategies of the past.
Improved Free Space Consolidation
New free space consolidation engines now provide more complete consolidation of the free space on your disk volumes.
HyperFast Solid State Drive Optimization
Solid State Drive (SSD) technology promises faster and better performance than conventional hard disk drives. However, Microsoft Windows is not optimized for NAND Flash as a principal storage device, such as is used with SSDs. As a result, computers with SSD storage devices will eventually experience a very noticeable and dramatic performance deterioration (up to 80%), to the degree that they will operate much slower than they would with a hard disk. The new HyperFast product integrates seamlessly, and is specifically designed to eliminate SSD performance degradation, and restore performance to like-new conditions.
Note: HyperFast is a separate product, sold in addition to Diskeeper. Contact your reseller or visit the Diskeeper Corporation website at www.diskeeper.com to purchase HyperFast and keep your SSD volumes running at peak levels.