The purpose of this is to illustrate how easy it has become to colorize a black and white photo using paint.NET and Recolored and to demonstrate the result of the little effort it took to produce a finished colorized image. As a collector, I from time to time venture off into other aspects of collecting. There is a great photograph of Elvis Presley in uniform. It is being auctioned as a vintage 7×9 black and white matte publicity photo. There is a date stamp on the reverse side dated June 29, 1960. On the front is stamped "this proof is unretouched". It is in fine condition.
In order to determine the actual or most likely color combination for this black and white photo, I had compared this image too images on the G.I. Blues soundtrack. Judging from the markings on this uniform, this is most likely a publicity photo for the G.I. Blues soundtrack.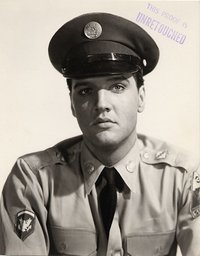 eBay: 330239758770
Date: June 6, 2008
Price: $50.00
I took a copy of this image and ran it through paint.NET to remove the background image and fade a color into the background. paint.NET is FREEWARE.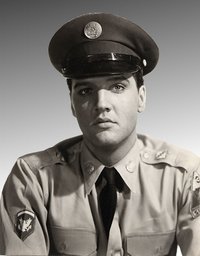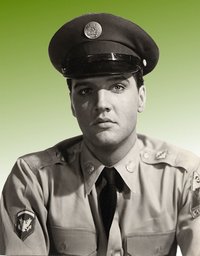 I found this great program called Recolored. They make the following claim: "Recolored makes it easy for anyone to add color to black and white photos. There is no need to struggle with layers or complicated settings — everything is accomplished with a few brush strokes. The software performs the otherwise difficult and time consuming task of coloring the image and creating smooth transitions between different colored objects."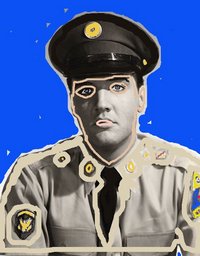 I am not a graphics artist, however, this program is quite simple to use. I used the paint brush to put the color where I wanted it and the colors that I chose based off of the G.I. Blues album cover. The reason I colored the entire background in blue rather than borders, is that this gave me the desired results, the border did not.
In a matter of a half an hour with tweaking, I successfully colorized the black and white photo from the first image.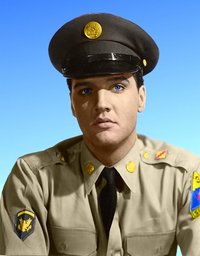 This utility is being offered for $29.00 but certainly looks to be worth it.