There are several steps to preparing the BlackBerry 9530 phone prior to resale. Remove the old phone number from the phone, factory reset, wipe, unlock, remove the SIM and SD cards. After reviewing many resources, YouTube videos, and finally a couple of interesting utilities, this is all possible.
Requirements
9530EastAsia_v5.0.0.1041_P4.2.0.456 Operating System (optional)
BlackBerry Swiss Army Knife ("BBSAK")
BlackBerry Reader
BlackBerry Tools
Disclaimer: This is informational purposes only. If you should have any problems or "destroy" your phone that is entirely on you. Enjoy the reading.
STEP 1: BlackBerry Swiss Army Knife ("BBSAK")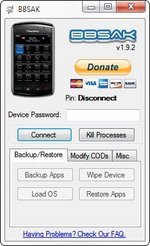 With the phone connected to the computer using a USB cable, launch BBSAK. Go to the Misc. tab. Press Clear Event Log and Press Factory Reset. The phone is clean. To be extra certain, from the phone, go to Options > Security Options > Security Wipe.
Optional. Dangerous if you don't know what you are doing, like don't have another operating system. If electing to install a new Operating System, then with the phone connected to the computer with the USB cable, launch BBSAK. From the Backup/Restore tab press Wipe Device. After the phone reboots, press Load OS. Follow the instructions.
Step 2: BlackBerry Informations Reader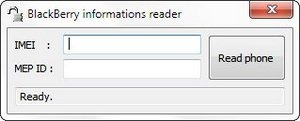 To use the BlackBerry Informations Reader, disconnect the phone from the USB cable. Shutdown the phone. Launch Blackberry Informations Reader. Connect the phone to the USB cable and restart the phone. Press Read Phone from the Blackberry Informations Reader. After about 30 seconds you should have the IMEI and MEP ID numbers.
Step 3: BlackBerry Tools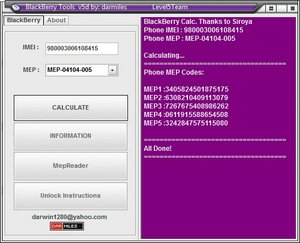 Example with a fake IMEI and MEP combination.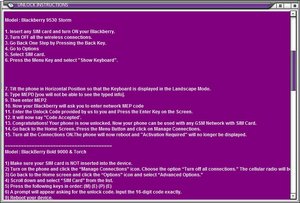 Use the IMEI and MEP ID numbers in the BlackBerry Tools utility. Then press calculate. The unlock codes will appear in the right column of the utility. The press Unlock Instructions to read how to apply the code. Hint, within the instructions you will be asked to type MEP2 on your phone.
STEP 4: BlackBerry 9530 Phone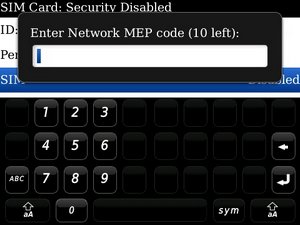 When the screen appears for the unlock code, use the MEP2 unlock code that was generated. You should get a Code Accepted status when complete. The phone is now unlocked.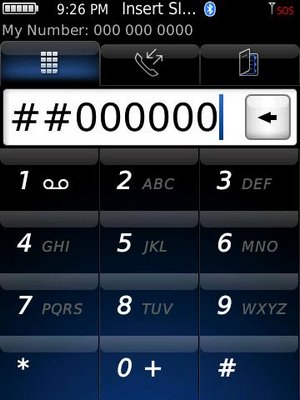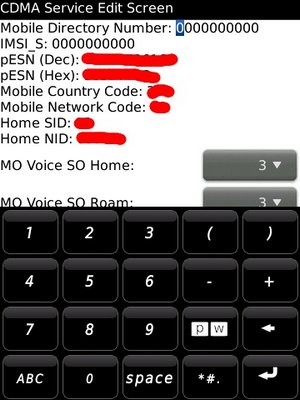 After the phone is wiped, factory reset, or even a new OS installed, the phone number still remains on the Phone. To remove your old phone number, go to the phone and type ##000000 and press the green phone. A new screen will appear. Simply replace the Mobile Directory Number and IMSI_S with all zeros or and 10 digit string it and save it. The phone will reboot.
Remove the SIM and SD card. Done.
Other interesting things you can do, is find the Help Me! screen: hold the BACK arrow, and tap the screen in the following areas: TOP LEFT, TOP RIGHT, TOP LEFT, TOP RIGHT. To find your IMEI code from the mobile keypad type *#06#
Source(s)
http://www.blackberryforums.com/general-8100-series-discussion-pearl/114784-vzw-8130-how-remove-my-phone-number.html
http://freemyblackberry.com/mepcode.html
http://www.blackberryforums.com/general-9500-series-discussion-storm/162107-yes-you-can-unlock-9530-free-5.html
http://forums.crackberry.com/blackberry-unlocking-f157/free-unlock-codes-687545/#post7017790
http://www.blackbaudknowhow.com/the-raisers-edge/unlock-code-generator.htm
http://cellphoneforums.net/blackberry-storm/t293655-how-unlock-your-verizon-blackberry-storm-9530-9500-a.html