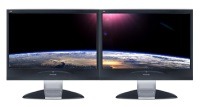 A user has a laptop with one VGA connection which is currently connected to an external monitor. The user wanted to add another external monitor to the equation. The laptop is neatly tucked away and hidden from sight, so the use of the laptop screen is not an option. The docking station that compliments this laptop does not offer support for dual monitors. After further research, a couple of options came to light.
The first and untested option. A USB to VGA adapter which was available at a local computer store for under $20. A quick conversation with the sales clerk indicated that the picture would likely be choppy with games. As the end user does not play games this was not a concern, however, I didn't want to "cheapen" the expereince. This option was no longer considered.
The other option, HDMI to VGA adapter. As this laptop does have an HDMI adapater, this option is most appealling. Further research indicated several arguments, as this configuration may not work if the HDMI port on the laptop may not be able convert digital (HDMI) to analog (VGA). The specifications for the laptop did not make it clear if the HDMI port offered those capabilities.
Not wanting to waste any more time researching this and not wanting to waste money on a cheapest solution that may or may not work, the following cable was purchased on eBay for $11.99 shipped and works flawlessly!
Gold Plated Premium HDMI to VGA Adapter with 3.5mm Stereo Audio
Product Features:
Input/ Output Signal: HDMI digital/VGA analog
Supported Resolution: 480i/ 480p/ 576i/ 576p/ 720i/ 720p/ 1080i/ 1080p
Support 165MHz/1.65Gbps per channel (6.75Gbps all channel) bandwidth for HDMI
Vertical Frequency Range: 50/60Hz
HDCP Compliant: HDCP 1.2
Audio Output: 3.5 mm stereo
The configuration is a hidden away laptop with dual external monitors. One monitor connected with VGA cable and the other HDMI adapter to VGA cable. This configuration allows for mirrored monitors to expanded monitors.
By default the monitors will mirror the desktop wallpaper. There are third-party software solutions to this. While there are many that are paid solutions, one free solution stands out, Dual Monitor Tools available from SourceForge. The image below is from the Dual Monitor Tools page.